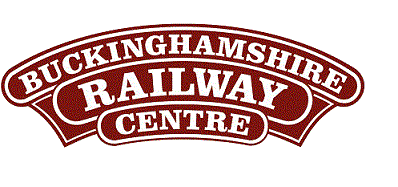 BRC Website Home
Quainton Virtual Stockbook - Mainline Locomotives - Steam Locomotives
BR(WR) Modified Hall Class 4-6-0 No. 6989 Wightwick Hall
---
Photo:
Robert Frise - Wightwick Hall in Quainton's Up yard October 2018
---
In 2018 Wightwick Hall became the 150th steam locomotive to have been restored to operational condition after being rescued from Dai Woodham's famous Barry Scrap Yard in South Wales. This was the culmination of a 42 year restoration by the 6989 Restoration Group, the story of which is told in these pages.
Wightwick Hall has so far won two awards for its restoration:
Runner up Heritage Railway Association Coiley Award 2020
Highly Commended Transport Trust Award in 2011
The following pages summarize the history of Wightwick Hall, its rescue from Barry, its restoration, and its operation as a restored locomotive. They expand on the original stockbook entry, and replace the previous dedicated website for 6989, and will be added to in due course.
---
Builder :-
BR(W)
Date Built :-
1948
Origin :-
BR
Number :-
6989
Alternate Numbers :-
-
Name :-
Wightwick Hall
Wheel Arrangement :-
4-6-0
Tractive Effort :-
27, 275 lb
Boiler Pressure :-
225 psi
Cylinder Dimensions :-
18½" x 30"
Weight :-
123t 02c
Driving Wheel Dia. :-
6' 0"
Owner :-
QRS
Status :-
Operational
Location :-
The Battlefield Line
Accession Number :-
W/0009
Arrival Date :-
QRS 1976
Power Classification :-
GWR - D
BR - 5MT
---
6989 Wightwick Hall in Print
Jeff Jackson has produced a book detailing 6989 Wightwick Hall's history from leaving Swindon Works to entry back into operation. It is available from Amazon in paperback or Kindle editions here.
Friends of 6989 Wightwick Hall
For a minimum contribution of £5 a month you can become a 'Friend of 6989 Wightwick Hall. You will receive regular newsletters to keep you up-to-date with the operation of the loco and an invitation to an Annual 6989 Open Day. To join please:
Pick up a leaflet in the Visitor Centre at the Buckinghamshire Railway Centre

Or


Write to the Hon Treasurer 6989 Group, Buckinghamshire Railway Centre, Station Road, Quainton, Aylesbury, Bucks, HP22 4BY.
The Sales Coach:
The dedicated 6989 sales team works from a mark 2 coach body placed outside the Up Yard restoration shed. They sell a mixture of new and second hand goods plus craft items donated by our supporters as well as a number of second hand railway books. We try to specialise in children 's toys and second hand tools. If you can help in either of these areas, especially with tools, all donations are welcome. As with all groups we are short of volunteers to man the shop and would welcome assistance in this area.
Donations:
Refurbishment of the tender, replacement of springs and procurement of running spares are the current priorities. It is estimated that this will cost around £20k to accomplish. Progress on this will be directly determined by the funds that can be raised. Activity was suspended due to Covid 19 with fund raising also curtailed with the only income from the support group subscriptions, for which we are very grateful. Any donations will shorten the time we will take to complete the work and will of course be very welcome. Donations should be made out to QRS Ltd (6989 Group) and sent to Treasurer 6989 Group, Buckinghamshire Railway Centre, Station Road, Quainton, Aylesbury, Bucks, HP22 4BY.
---
---
Text © Quainton Railway Society / Photographs © Quainton Railway Society or referenced photographer
Email Webmaster
Page Updated: 14 September 2021