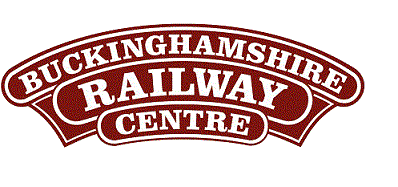 BRC Website Home
Quainton Virtual Stockbook - Industrial Locomotives - Steam Locomotives
Hudswell Clarke 0-6-0T No. 1334 Sir Thomas
---
Photo:
Unknown - Sir Thomas rests at sunrise on 22nd August at Quainton
---
The Oxfordshire Ironstone Company, of Banbury, at one time owned a fleet of twenty steam locomotives which were employed in handling iron ore trains from the workings at Wroxton to the exchange sidings of the Great Western Company at Pen Hill, near Banbury, a distance of about five miles. These engines were maintained in first class condition but eventually the introduction of diesels made them redundant.
The survivor was supplied to the Oxfordshire Ironstone Company in 1918 by Hudswell Clarke & Co of Leeds, as one of two six-coupled tank engines. They were given fleet numbers 1 and 2 and named Sir Thomas and Lord North respectively. A similar engine, President, was delivered in 1923. Sir Thomas was named after Sir Thomas Pope, the first owner of Wroxton Abbey, which was close to the company's workings. Sir Thomas was relatively unusual for an industrial locomotive in that it was fitted with vacuum brake equipment from new.
---
Photo:
Jim Stevens (QRS S&T Archives) - Sir Thomas heads Down Yard train in 1969 at Quainton
---
In the mid-1960s, the steam locomotives were replaced by diesels, and at the instigation of Mr E Tonks of the Birmingham Locomotive Club, Sir Thomas was saved for preservation, and presented to the Quainton Railway Society on 1st June 1969. Although out of service for several years, Sir Thomas had been kept under cover and well greased and was in far better order than any of the Society's other locos at that time. It was therefore decided to put Sir Thomas into working order for the first steam weekend at the August Bank holiday. In the short period prior to the bank holiday the boiler was stripped off, a hydraulic test performed, the locomotive reassembled, and a steam test performed.
Sir Thomas headed the Quainton Railway Centre's first passenger trains along with Juno, in August 1969. Sir Thomas and Juno then bore the brunt of services for the next two years. In 1971 very major work became necessary and it is now a long-term static exhibit.
References:
The Locomotive Department 1969 - 1973 - John Hutchings - Quainton News No. 16 June 1973
Terence Dorrity - Oxfordshire and Northamptonshire Ironstone Steam - Irwell Press (Due 2016)
---
Photo:
Sidney Lelux - Sir Thomas on 4th November 1961 at Pen Hill Farm Shed, Oxfordshire Ironstone Company
Photo:
Terence Dorrity - Sir Thomas at the Oxfordshire Ironstone Company. No. 1 Sir Thomas was one of two 0-6-0 side tank locomotives originally ordered by the Inland Waterways and Docks Executive during the First World War. As they were no longer required in 1918, they became the first Oxfordshire Ironstone Company owned locomotives on the system. The other one, No. 2, Lord North, was scrapped in 1958.
Photo:
Terence Dorrity - on a bitterly cold Christmas Eve, Tuesday 24 December 1963, No 1 Sir Thomas was near the water tank at Penn Hill Farm.
---
| | | | | | |
| --- | --- | --- | --- | --- | --- |
| Builder :- | Hudswell Clarke | Date Built :- | 1918 | Works No. :- | 1334 |
| Running No. :- | 1 | Name :- | Sir Thomas | Wheel Arrangement :- | 0-6-0T |
| Tractive Effort :- | 18, 568 lb | Boiler Pressure :- | 160 psi | Cylinder Dimensions :- | 16" x 24" |
| Weight :- | 42t 0c | Driving Wheel Dia. :- | 3' 9" | Owner :- | QRS |
| Status :- | Static Exhibit | Location :- | Wembley Shed Down Yard | Accession Number :- | W/0023 |
| Arrival Date :- | 1969 | | | | |
---
Text © Quainton Railway Society / Photographs © Quainton Railway Society or referenced photographer
Email Webmaster
Page Updated: 15 September 2017