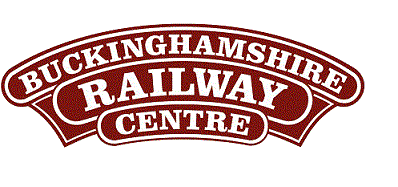 BRC Website Home
Quainton Virtual Stockbook
Quainton News Archive - Quainton News No. 47 - Autumn 1982

The Esso Tank Car and the Cattle Truck
---
Photo:
J R Fairman - Esso Tank Car 1869
---
After spending nearly nine months waiting at Bicester, Esso tank car 1869 was delivered to the depot down yard on 5th July. It is a standard 10ft wheelbase four-wheeled steel wagon with a welded steel barrel carried on four timber cross beams. 1869 was built in 1939 and registered with the LMS as No. 165340. It carried a maximum load of 14 tons of oil and has a tare weight of 10 tons 9 qrs. The gross load is given as 24 tons. It was not repainted before coming to Quainton and carries the Esso 'black oil' black and white livery. We are very grateful indeed to the Esso Petroleum Co. for their generous gift of this wagon to the Society.
A group of members have purchased an 8 ton cattle truck from BR. It arrived on 3rd September and it is DB893928, built at Swindon in 1952 to Lot 2325. Latterly it was in use by the Nottingham Civil Engineer for tunnel inspection and for this purpose the roof has been modified to form a flat topped working platform. It also accounts for the prefix D before the number. Apart from this alteration, which can be remedied as soon as we have the necessary curved roof members, it is very complete and represents an important vehicle to be preserved. It is believed that the cattle truck is the only one to be at a preservation centre, the other two being at the National Railway Museum, York. As will be seen from the photograph, it is a steel framed wagon with timber-planked sides and ends on angle frames. There are two half doors above a centre drop door on each side of the wagon. There is a hand brake and through vacuum piping and hoses. The wheelbase is 11ft.
The two cattle trucks at the NRM are 8892156 and 8893343, built at Swindon in 1950 and 1951. Both have been restored since they were saved early in 1977 and are in dark brown livery. They were in the Rainhill Cavalcade on 24th to 26th May 1980, thereby emphasizing the former importance of conveying cattle by rail.
---
Photo:
J R Fairman - The BR Cattle Truck DB893928
---
Notes:
The text in this Quainton Railway Society publication was written in 1982 and so does not reflect events in the 32+ years since publication. The text and photographs are repeated verbatim from the original publication, with only a few minor grammar changes but some clarifying notes are added if deemed necessary. The photos from the original publication are provided as scans in this internet version of this long out of print publication.
Reference:
The Esso Tank Car and the Cattle Truck - Quainton News No. 46 - Autumn 1982
---
Text © Quainton Railway Society / Photographs © Quainton Railway Society or referenced photographer
Email Webmaster
Page Updated: 08 December 2017