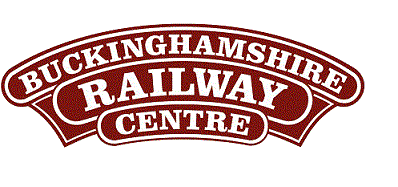 BRC Website Home
Quainton Virtual Stockbook
Quainton News Archive - Quainton News No. 14 - December 1972

BR Horse Box S96403

The Horsebox
---
Photo:
J R Fairman - Army 9037 and S96403 - Quainton Road, 16th August, 1972
---
The picture shows a contrast in loading gauges. A better view of the horsebox will appear in next year's stock book! On 8th August, at 7.50 am Pointer's low loader drew into Quainton with an interesting vehicle aboard. This was a BR Standard three stall horsebox, S96403, which has been purchased by a number of members for use as a dormitory, stores, workshops, kitchen and dining room. An examination of the interior layout shows how well it can be adapted for these purposes. Basically, there is a half compartment amidships which gave the grooms a 'close up' of a wooden partition with little doors through which the horses heads could be seen and perhaps the odd knob of sugar passed for the nag's delight. Side corridor access is provided from the compartment to a spacious toilet - for the grooms of course. At each end of the vehicle there is a fodder storage section which is windowless.
In September the owners started on the job of removing the stalls and partitions in the horse compartment as preparatory work for the construction of workshop facilities. Nothing is being thrown away so that it will always be possible to restore the horsebox to its original condition.
A very interesting record of the use made of S96403 between February 1966 and November 1970 has been obtained and this shows that it was running on 25th June 1969 with horses of the Household Cavalry from Kensington to Bangor for the Investiture of the Prince of Wales at Caernarvon. In the following month it was at Colchester with horses of the Royal Canadian Mounted Police. Other journeys in 1967 took it to Windsor and Ludgershall for the Royal Horse Artillery and to Holyhead for the Kings Troop in 1968.
---
Notes:
The text in this Quainton Railway Society publication was written in 1972 and so does not reflect events in the 40+ years since publication. The text and photographs are repeated verbatim from the original publication, with only a few minor grammar changes but some clarifying notes are added if deemed necessary. The photos from the original publication are provided as scans in this internet version of this long out of print publication.
Reference:
The Horsebox - Quainton News No. 14 - December 1972
---
Text © Quainton Railway Society / Photographs © Quainton Railway Society or referenced photographer
Email Webmaster
Page Updated: 21 October 2017