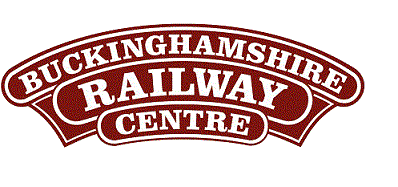 BRC Website Home
Quainton Virtual Stockbook - Goods Vehicles - Tank Wagons
20 Ton Hopper Grain Van No. B885280
---
Photo:
Andrew Bratton - Restored Grain Hopper stabled in the Down Yard
---
This wagon is designed for the bulk carriage of grain. The grain was loaded through the two sliding hatches in the roof and then unloaded via hopper discharge doors. The hopper doors were controlled by a hand wheel, which can be seen between the wheels at the side.
This wagon was built after the railways were nationalised in 1948. It is based on an earlier London Midland and Scottish Railway design, that was used until 1958. In fact the first forty vehicles built after nationalisation were carbon copies of the original LMS vehicle. B885280 was part of the sixth batch, and contains slight differences in detail to the LMS design. Unlike the original LMS design, this wagon has instanter couplings that allow the train vehicles to be closer coupled. This reduces the snatching of couplings and the resultant damage to goods.
B885280 was purchased by QRS from Dover Wood & Co. Ltd., in Kentford, Suffolk, numbered by them 23. It arrived at Quainton in May 1991.
---
Photo:
Andrew Bratton - Restored Grain Hopper stabled in the Down Yard
---
Origin :-
British Railways
Eastern Region
Date Built :-
1955
Number :-
B885280
Diagram :-
1/271
Lot :-
2709
Capacity :-
20 ton grain
Tare Weight :-
Gross Weight :-
Type :-
Grain Hopper
Builder :-
Pressed Steel
Wheelbase :-
Owner :-
QRS
Status :-
Operable
Location :-
Down Yard
Accession No.:
W/0083
Arrival Date :-
1991
---
Text © Quainton Railway Society / Photographs © Quainton Railway Society or referenced photographer
Email Webmaster
Page Updated: 27 September 2017