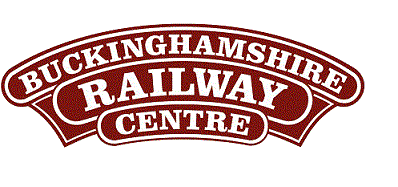 BRC Website Home
Quainton Virtual Stockbook - Passenger Stock - Multiple Units
Class 115 Diesel Multiple Unit
---
Photo:
Phil Marsh - The DMU breaking the banner in July 1998 just before its rededication
Photo:
Robert Field - M51886 as the leading vehicle at the Aylesbury end of the Quaintonian
---
This class 115 DMU, numbers 51899, 59761, and 51886, was used on the Aylesbury to Marylebone line for thirty years until replacement by the Chiltern Turbo units in August 1992. 51899 was named "Aylesbury College Silver Jubilee 1987" and was the only 115 class to be named. The unit is vacuum braked and so can be steam hauled and used instead of our existing MK I stock, or it can function as a complete self-propelled unit.
51899 and 51886 are both power cars, built at Derby in 1960 to lot 30598, and have 78 second class seats. 58761 is a composite trailer built in 1960 to lot 30800. 51899's cast nameplate was presented to Aylesbury College at Aylesbury Turbo Depot on 25th March 1991. The three cars are now painted in original green livery.
The class 115 DMUs were used on the occasional Quaintonian special trains to the centre. As far as can be discovered from the records M51899 never made it onto the Quaintonian; M59761 appeared once on 31st May 1976; M51886 also appeared only once on 27th August 1979. In the picture above M51886 is the leading vehicle at the Aylesbury end of the train. Further details of the specials can be found on the Quaintonian page.
---
| | | | | | |
| --- | --- | --- | --- | --- | --- |
| Origin :- | British Rail | Date Built :- | 1960 | Number :- | 51899, 59761, 51886 |
| Type :- | DMU | Builder :- | British Rail - Derby | Owner :- | QRS |
| Status :- | Operational, requires maintenance | Location :- | Up Yard | Accession Number :- | W/0049, 0050, 0051 |
| Arrival Date :- | 1993 | | | | |
---
Text © Quainton Railway Society / Photographs © Quainton Railway Society or referenced photographer
Email Webmaster
Page Updated: 16 September 2017